Boisterous Bill-iever: Bills fan from Auburn, daughter go viral with video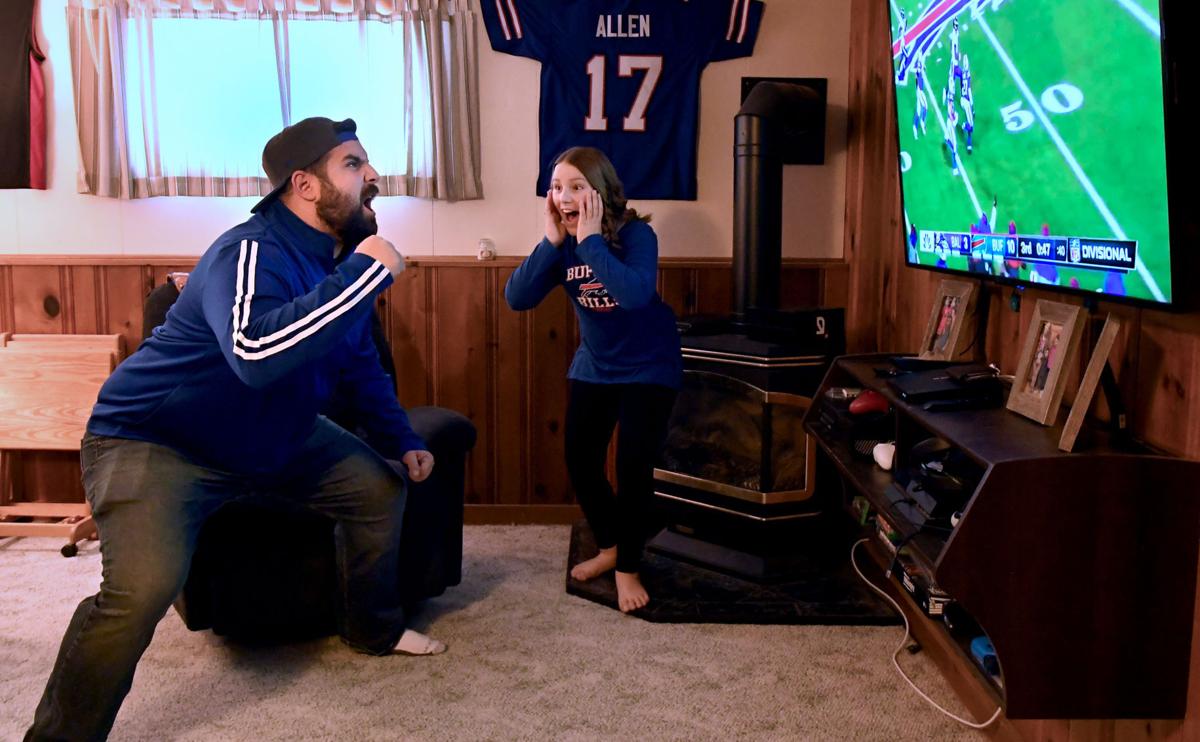 Nearly 7,000 fans attended the Buffalo Bills' AFC divisional playoff game against the Baltimore Ravens last Saturday. 
Joe Cammilleri wasn't one of them. But perhaps those in Orchard Park could hear his cries of excitement. 
Late in the third quarter, with the Bills clinging to a seven-point lead and the Ravens deep in Buffalo territory, quarterback Lamar Jackson threw a pass over the middle that was intercepted by Bills cornerback Taron Johnson. 
Johnson caught the ball one yard inside the end zone and sprinted the other way for a 101-yard return for a touchdown. 
Alone in the basement of his Auburn home, Cammilleri exploded with shouts of joy. 
"F— yes! Go! Go! Oh my God, go! Let's f—— go!" Cammilleri yelled as Johnson scampered down the field, effectively sending the Bills to their first AFC Championship game since January 1994. 
Unbeknownst to Cammilleri, his 11-year-old daughter, Zoey, a student at Herman Avenue Elementary School, was recording a TikTok video upstairs. 
As the celebratory screams began, Zoey faced the camera with a look of astonishment, then excitement. 
"My dad's watching the Bills game!" Zoey said. "They probably just did something really, really good."
Here is the video (and an adult language warning): 
Later during the game, Cammilleri received a notification that he had been tagged in a video by his wife, Felicia. Zoey's TikTok was now on Facebook, and the post was flooded with "likes" and views from family friends. Cammilleri also shared the video with the Bills' Twitter account — the Bills also commented on the video on TikTok. 
The video gained so much notice that it eventually gained the attention of Barstool Sports. Barstool's Kevin Clancy, more popularly known as KFC Barstool, DMed Cammilleri asking if they could share the video on their social media platforms. Cammilleri gave the OK.
As of Thursday afternoon, the video had over 1.6 million views on Instagram, over 130,000 views on Twitter, and 555 shares on Barstool's Facebook. 
What was the reaction to Cammilleri's colorfully worded celebration?
"There were some ribbings, but it wasn't necessarily about my swearing," Cammilleri said. "If anything, people were like that's how it is in a Bills household. That's what all of central or western New York sounds like during a Bills game."
And why wasn't Zoey in the basement watching the game with her dad?
"I'm just really superstitious. All season I watch them alone on Sundays. Even my wife Felicia's not allowed to watch. They've gotta be upstairs."
Almost 30 years of heartbreak — and, for the last 20 or so, irrelevancy — will have that effect. Cammilleri's first memory as a Bills fan was watching them lose to the Dallas Cowboys in the Super Bowl when he was 5 (he didn't specify which Cowboys loss). He was there for the Music City Miracle — or Music City Mistake if you're a Bills fan — and he continued to support the team during their 18-year playoff drought. 
On New Years Eve 2017 when Cincinnati Bengals quarterback Andy Dalton threw a last second touchdown to defeat the Ravens, allowing the Bills to reach the AFC playoffs as a wild card, Cammilleri said he was in tears. 
"As a Bills fan, you just expect the worst to happen. If they have a lead, no matter how big the lead is, they're gonna blow it," Cammilleri said. "It's stressful but I'm cautiously optimistic. I feel like we've got our quarterback finally with Josh Allen. 
"It's been amazing, especially this year."
Cammilleri has no intention of changing his routine this weekend. When the Bills take on the defending Super Bowl champion Kansas City Chiefs Sunday in the AFC Championship (6:40 p.m. on CBS), he'll be watching alone in his basement.
He plans to watch some of the NFC Championship between the Green Bay Packers and Tampa Bay Buccaneers. Then at 6 p.m., he'll kick everyone out of the basement to be alone with his Bills. And at kickoff, he'll pull up his recliner only a few feet away from his 70-inch TV and watch nervously as the Bills try to make it to their fifth Super Bowl. 
"It's like Christmas morning," Cammilleri said. "I get super stressed out. I'll watch it from 4 feet away and on the verge of a heart attack."
And perhaps Zoey will be upstairs, on the verge of another TikTok video. 
Sports reporter Justin Ritzel can be reached at 282-2257 or at [email protected]. Follow him on Twitter @CitizenRitz.
Powered by the Echo RSS Plugin by CodeRevolution.